Bull Thesis on $PATH – Part 01
$PATH is a software company that focuses on "RPA", or #robotics process #automation. UiPath defines #RPA as "a software technology that makes it easy to build, deploy, and manage software robots that emulate human actions interacting with digital systems and #software." So, let's start there: One thing UiPath does is make software bots that replace work done by humans through automation. You're probably already familiar with certain types of online software bots. For example, chatbots are the bots you find in the bottom-right-hand corner of your browser on many websites today. The goal of a chatbot is to simulate a conversation with a human being to answer frequently asked questions and direct you to useful resources, eliminating the need for a human employee to do that.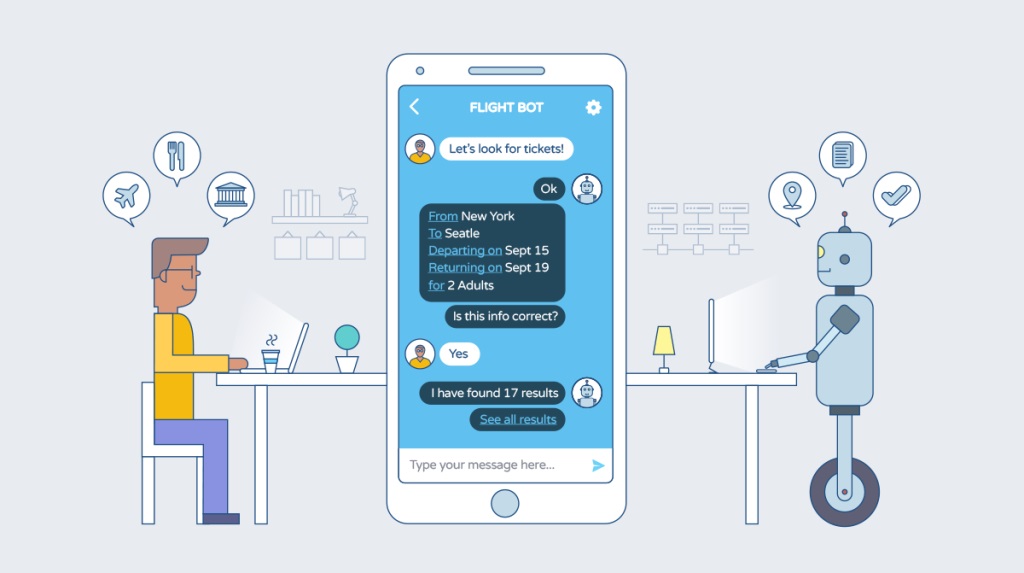 Web crawlers are bots that access websites and gather content to be indexed in search engines. Basically, they read every website they can get to and do things like figure out what's on it, how up-to-date it is, where it links to, what other sites reference it, how fast it loads, and many other things that help a search engine like Google know when to put it in front of someone. Imagine giving that job to a human. Yikes! UiPath's bots are often used to manage simple but monotonous workflows like these. An example workflow for UiPath's bots could be parsing emails to retrieve data that need to be entered in a bunch of other forms or applications.
Here's what Daniel Dines, UiPath's CEO, said in his S-1 Letter to Shareholders:
"As the economy largely moved from manufacturing to services, the need for automation shifted from industrial to business process automation. But, despite enormous gains in computing power at our fingertips, we witness a paradox. While today's work is largely digital, the repetitive, manual work has not disappeared – the form of it has simply shifted. For example, today's knowledge worker spends a vast amount of his/her time at work extracting, entering, and processing data, and enduring the drudgery of continuously copying and pasting between a growing number of applications."
To me, it's obvious there is and will continue to be an insane amount of demand for robotics process automation — every company wants to automate workflows and reduce unnecessary human labor. The real question I have is whether UiPath can scale to meet that demand before its competition does. Let's talk about that now. They had 6,009 customers as of January 31st 2020, including 80% of the Fortune 10 and 61% of the Fortune Global 500. As of January 31st of 2021, they had 7,968 customers, a jump of about 33%, while still including 80% of the Fortune 10 and 63% of the Fortune Global 500, meaning they're expanding their total addressable market beyond industry titans while having relatively little customer churn. This is growth on steroids: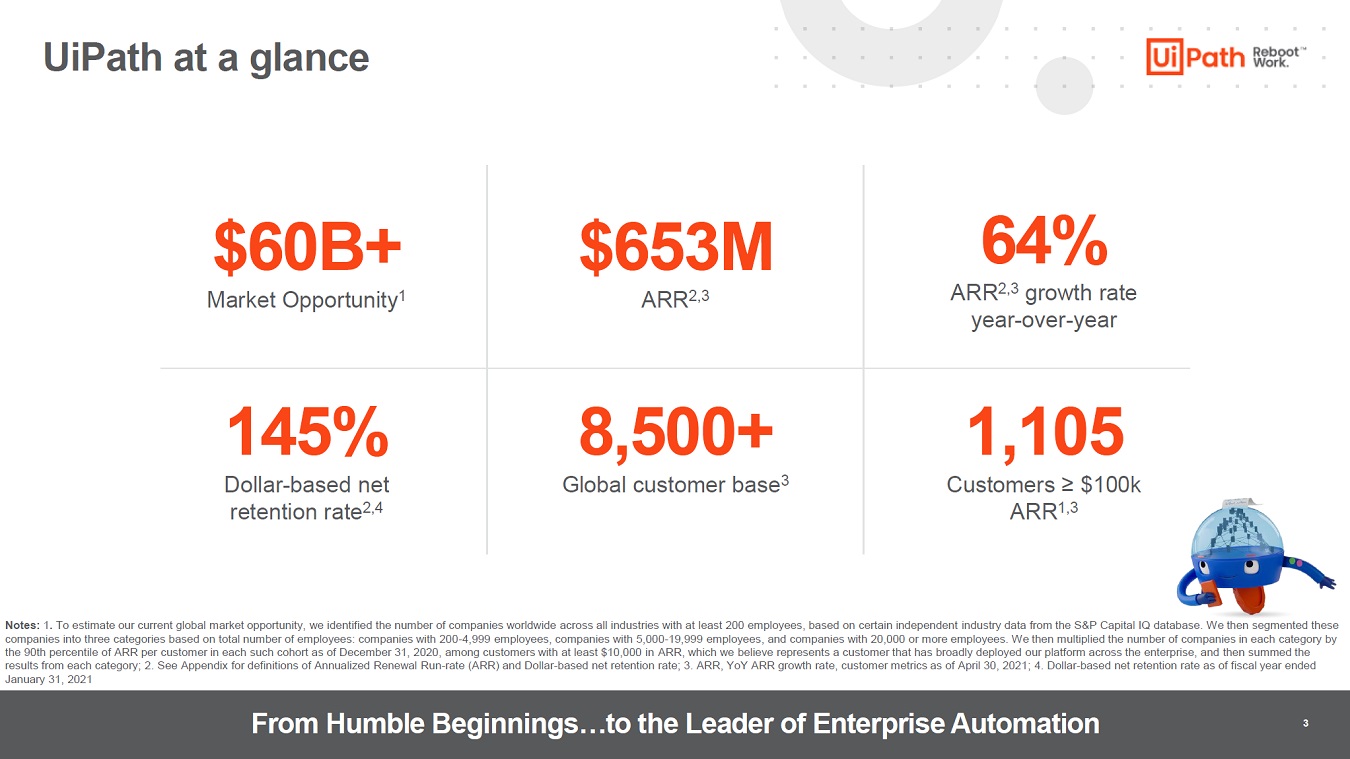 (shown above: UiPath at a glance from their June 2021 earnings report)
How is UiPath doing this? UiPath is becoming entrenched in their customer base. That's the growth model: UiPath lands its clients and then expands. The company gets in the door, and over time it dramatically expands its business as it proves the value of the technology to the customer. UiPath's dollar-based net retention rate is 145%, meaning their customers INCREASE their spending with UiPath by an average of 45% year-over-year. That isn't just some on-paper number. This is happening because UiPath grows as their customers identify and expand the number of business processes to automate, increasing the number of robots deployed and the number of users interacting with the robots. Guess how UiPath charges its customers. Per automation and per user. There's your exponential growth. So, what about their competition? Well, it turns out there isn't much.
Here's what Daniel Dines had to say during one of their most recent earnings calls:
Our leadership position in the RPA market is again demonstrated by our ARR growth, which increased 64% year-over-year to 653 million, while net new ARR record 72 million. We continue to grow multiples of the market and take market share. In fact, for 2020 IBC announced that UiPath ranked number one in RPA, capturing 8 points of share versus 2019. In Gartner's latest market share research, UiPath added more revenue in 2020 than our top nine competitors combined. We believe that automation will be the next layer in the software stack… we are not standing still, as we continue to expand our competitive moat. Our ultimate product vision is for our users, not only to automate existing processes but to design processes on our platform.
(Source: https://seekingalpha.com/article/4433807-uipath-inc-path-ceo-daniel-dines-on-q1-2022-results-earnings-call-transcript)
(shown above: ARK Invest's combined positions as of 11/01/2021; Ticker Symbol YOU)
With such a powerful niche in such a huge total addressable market, it's no wonder that $PATH is ARK Invest's 7th biggest position overall with over $1 Billion invested in it across all six of their actively managed funds ($ARKK, $ARKG, $ARKW, $ARKQ, $ARKF, and $ARKX)!
Want to learn more about $PATH's capabilities and financials? Check out my deep dive video on it here!
Want more content like this? Subscribe to Ticker Symbol: YOU on YouTube and follow me on Twitter!
🙏 Thanks for reading!